Data centre
The Towercom Data Centre offers clients TIER III certified premises, which, due to their excellent location, connection redundancy and premium power-supply backup, are suitable for placement of client infrastructure, backup systems, or systems requiring a high degree of security, flexibility and reliability.
Benefits
Architecture
premises of the Kamzík TV transmitter in Bratislava
the object is located outside the protective area of approach to the local airport in a non-flooding zone
480 m2 of technological equipment
double floor with a load capacity of 1000 kg/m2 (5 kN) and a clearance of 40 cm from the ground
Security
non-stop 24/7 NMC security monitoring and a guard service
electronic security, camera and access system
automatic smoke, fire, water and dust detection systems
fixed fire suppression system with no damage to IT technologies
upon request, we can provide you with a separate lockable and monitored cage without the possibility of access by persons other than customer staff
ISO certification
Towercom, a. s. uses a certified integrated management system according to:
STN EN ISO 9001 Quality Management Systems
STN EN ISO 14001 Environmental Management Systems
STN ISO/IEC 27001 Information Security Management Systems
Flexibility
we offer comprehensive solutions and consulting based on your requirements
we adapt to the dynamics of your company
we will modify the premises according to your requirements and specifications
parking facilities are available directly within guarded premises of the data centre with convenient access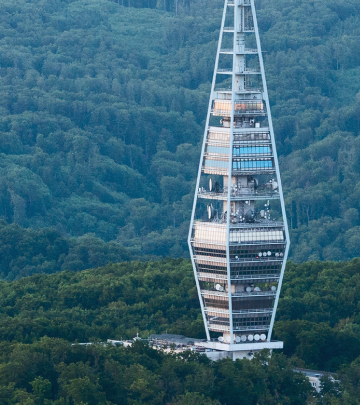 Towercom
Towercom, a. s. provides rental of data centre technology spaces for the location, operation and supervision of IT technologies. The data centre also houses our own technology necessary for TV broadcasting services that require maximum security and stability.
The unique and secluded location of the Kamzík TV transmitter facility allows for wide connectivity options through aerial microwave or optical fibre based connections from at least two independent providers, to maximise access efficiency and use of the data centre's capacity.
Comprehensive services
ISO certification
Professional technological solution for your projects and services:
co-location services (private cages also available)
rack-housing (possibility to rent 1/4, 1/2 or an entire rack)
Server-housing
Efficiency
The Towercom data centre services help reduce your building, space, technology, cooling and power backup related costs.
National Management Centre
The NMC surveillance centre with professional staff is available 24/7, to precisely match your needs and reduce your personnel costs.
Smart Hands
A 24/7 remote support service. This service allows you to carry out basic remote tasks on your devices at any time through trained Towercom personnel, such as device status checks, rebooting and similar.
Space rental
In the premises of the data centre you can rent space or office premises for your IT department.
Technological parameters
Power supply
power supply is provided by two transformers, each with a power output of 1250 kVA, operating in N+1 mode
backup power supplied by the NZ2® Phoenix Zeppelin power system
backup power during power system start-up is supplied by flywheel UPS
air-conditioning and ventilation
EMERSON air-conditioning units are used in the data centre
regulated temperature of 22°C +/- 3°C
humidity of 50% +/- 10%
system of cold and hot aisles
G-4 filtration
Fire extinguishing system
fire extinguishing INERGEN® systems
optical smoke detectors in the ceiling and in the raised floor
optical and acoustic signalling for the safety of staff in the premises
all information regarding sprinkler fire extinguishers is monitored by the central surveillance desk
Contact information
If you are interested in our services, require a consultation, or want to find out which service is suitable for you, fill out this form.